I challenge Cyrene on whether selfless acts exist or not.
(This is the idea which I have come here to challenge. Joker is insistant that a selfless act cannot exist I oppose this.).
The largest and most profound reason why I oppose joker's idea that humans cannot act selflessly is; modern biology. It took decades for scientists to finally carve out an idea about how natural selection works (everyone understood it selects, but at what level? group-selection, individual organisms, or the gene? As more and more evidence poored in that the gene was the unit of selection it became more widely and widely accepted until it has become the standard belief in biology.
The evidence is large but i'll just point out that theres documented cases of insects almost going extinct because the males start dissapearing because genes on chromosone X (which females have two of) are beneficial to females but not to males, the genes spread like wildfire throughout the whole population anyway because they're twice as likely to find themselves in a female host. On top of that, some disease causing genes may increase ability to propagate genetically, can cause people to die/become diseased when they get slightly older. If organisms were a unit of selection and not the genes, we would not have disease which only become fatal when people are 30-40. We see horrible genes propagating throughout populations, disease causing genes that kill organisms, because organisms are survival machines which HOUSE genes, genes do not exist for the benefit/fitness of the organism BUT exactly the opposite. If a gene can spread which crushes an organism halfway through its life but doesn't effect genetic propagation, they don't get selected out, they stay.
So why does it matter that organisms are survival machines that have been 'designed' to propagate genes and not individual organism survival? (Don't get me wrong, obviously the two ideas coincide a lot, but the point is, they don't all the time). I guess it's hilariously highlighted by a pioneer in the field of evolutionary biology, who said: "I would lay down my life for two brothers or eight cousins" - Haldane (probably said partly jokingly).
Anyway, evolutionary biology had a problem. Obviously altruism existed and since the begining of time people have noticed organisms favoring kin. How could this be so? Wouldn't the continously selfish organisms have lived throughout without selflessness? Well, some brilliant biologists realized that no, if you share 50% of your genes with brother A, and he shares 50% of your genes, then there *MUST be circumstances, in which a person acting with altruism towards person B would increase the propagation fitness of those *genes.
They went to math table (organisms share genes. chances of spreading those genes at expense, etc, this can all be largely calculated and predictions can be made about animal behavior *BASED on relatedness)
anyway, it was called hamilton's rule and its expressed like so: Rb>C
( r = the genetic relatedness of the recipient to the actor, often defined as the probability that a gene picked randomly from each at the same locus is identical by descent. B = the additional reproductive benefit gained by the recipient of the altruistic act,C = the reproductive cost to the individual of performing the act. )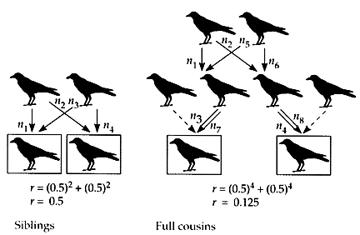 The theory's implication has been called 'kin selection' and we see it continously in the animal kingdom outside of humans. Things like animals giving shrill warning cries when a predator is around (exposing its location, at risk to itself) to warn everyone else (because everyone else contains *GENES identical to the ones in your body, and saving ten bodies with similiar genes passes on genes more than if every single animal was ruthlessly selfish)
Across all human socities, across almost all mammals, animals have acted on average, more altruistically, than towards other nonrelated individuals. It'd seem weird, no down-right strange to me, that all human societies that ever existed have by chance developed these 'social norms' that everyone just agrees to because it benefits them.
On top of this, human infants show signs of altruism/selfless behavior before their old enough to concieve ideas of selfishness, before they can even fully communicate. This, on top of the fact that in all societies altruism happens towards kin more often, on top of the fact that people have specific neuromachinery that lights up when they're performing kind social actions, would suggest that people are evolved for cooperation, and part of that social adaptation would seem to be acting altruistically towards others.
We spent 99%+ of our time as a species in hunter-gatherer groups where we were related to most people, if only distantly, the fact that we're altruistic to strangers today may be a misfiring (this person can't help you, they're not related, but in a similair situation where we evolved* they might have been)
It comes down to one thing and one thing only:
Theres situations which routinely occur, in which individual A could gain absolutely no social benefit, could gain absolutely *nothing for their actions, where those people act. When a woman decides to have a baby, that does not raise your social status, when a woman tries to steal her baby back from the jaws of a bear she has *NOTHING TO GAIN, surely people are not adapted to selfishness so badly that they're willing to attack bears with their bare hands for the social recognition that they can do it, certainly females are not adapted to throwing away their lives like this.
They adapted to take care of/nurture their babies, which require *MASSIVE genetic resources on top of resources for up to 2 years to have even a tiny baby. The idea that organisms are selfish and only selfish is insane, if only because human mothers devoute insane amounts of time to babies that gives them nothing in return; no extra resources, infact they lose resources. they become at risk for predation, and need more food just to survive.
On top of that in plenty of animal species babies are abandoned at birth. and mates don't stick together. For some reason, lots of humans have babies and then stick together for years afterwords, this needs to be explained on a biological level (even though lots of human males abandon their young. huge amounts of them stick around.) the claim that significant human males don't stick to raise children is crushed by the fact that human males have specific neuromachinery to detect child-relatedness based on facial resembelence of father/child. They do stick around a lot, they have adaptations for detecting *THEIR children.
This needs to be explained. It becomes fairly easy when you realize that human babies are born... helpless. many animals, when they are born, are capable of flight, they are not wailing pieces of rubber which can barely move. As human intelligence rose, babies needed to start being born more and more prematurely (their muscle structures anyway) this created a dilemma; a crying sack of meat that can't move, you couldn't design better lion food. The males which started sticking around, either through 'love' of their mates, or caring for the children passed on a lot of genes, the babies didn't get eaten as much, and to some extent, its spread.
The idea that humans are 'only selfish' falls apart under modern science which shows that when organisms share genes, there are circumstancially times when helping each other will propagate that genetic information to the next generation, where being selfish every single time no matter what, would be an evolutionary death sentence.
Ethology shows us that most animals seem to favor kin and even when they don't are capable of acting altruistically. (A crocodile for instance, taking its own babies to a watering hole, while another female croc comes there too, except theres only room for one adult croc, so the second female leaves them there. the female adopts them and raises *THEM ALL. *probably because attempting to eat them up would kill a lot of her own babies.)
The fact is when you say humans do X (saving a baby) for social status/greed, you also have to explain why every other animal species (almost) seems to act the same, with absolutely no conscious perception of things like social status, greed, or even aware that they're alive.The only disagreement that could possibly be made is that organisms are not adapted to genetic propagation- and that genes are not the unit of selection. But they are, and organisms are.
Every human action that equals genetic success and is clearly altruistic is painted as 'selfish' because the individual gains through society (even when no potential benefit can come from the risk, joker still somehow claims its for social benefit). I sincerely doubt this is the case as the actions are seen throughout the entire animal kingdom, and while joker's explanations can fit on a human (if you ignore everything about science/common sense) they cannot fit to animals that routinely show favor/altruism to kin.
reciprocal altruism may explain many of these cases (the unconscious notion that if you scratch my back i'll scratch yours, maintained by some kind of tit-for tat retaliation system) but it cannot by definition explain altruistic acts which cannot be returned as in feeding a baby. On top of that, the evolution of tit-for-tat based reciprocal altruism (not *EVERYONE was related in hunter-gatherer groups) has created a situation, which can, ironically lead to non reciprocal altruism.
As in people are adaptedd to being kind to people not even related to us, because unconsciously, we know that being nice can get us rewards from other people, and we're unconscious, because without that self-knowledge its easier to hide from others, but because we no longer live in hunter-gatherer societies where we'll always see the guy next store, we can be altruistic to people we'll never see again! because of a misfiring of an adaptation.
If i give you meat now when i am at excess i can get meat later when you are at excess, if i give you meat, and don't return the favor, the next time i need meat I won't get it, or worse yet, might take a club to the head for trying to not return the favor, once humans stopped living in groups where we spent our lvies around the people we saw, we act altruistically to people because it makes us feel good, but the reason we may do so to a stranger without ever a return, is because unconsciously we may suspect one.
If a person engages in X action with is selfless, because they have an adaptation for being selfless, because in the area where they evolveed being selfless increased genetic propagation, does that make the action selfish while you give a poor guy a sandwhich? because you only have the urge to give the sandwhich because at some level, those in the past got a return of the sandwhich when they needed it?
No. Things evolve for 'genetically selfish' reasons, but the word selfish when applied to genes is a metaphorical tool. Genes are not conscious and are there-for cannot be selfish by any definition of the word.
(just for the record the babies were not rewarded or encourged to act altruistically. They spontaneously act altruistically in certain tasks/interaction with adults. This one test had people who clearly wanted a dropped peg, the second the infant could *deduce in some rough way what they wanted, they acted altruistically to help. time and time and time again. Without reward, without a coherent idea about the social world/status.)